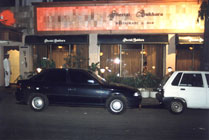 Bukhara basically was a place in the outskirts of Afghanisthan where food was baked after hunting in traditional ways after adding masalas on typical skews and slow fire below. To keep the traditional food alive with modern facilities but cooked with traditional masalas, herbs, spices, Sheetal Bukhara came into existence.

Till date the Black Dal / Meat / Chicken / Biryani are still kept to cook the old traditional way like years ago. It is on slow fire and that also not on gas but on coal so it gives the flavours & taste to the dish being cooked.

This restaurant came into existence far behind in 1988 and from then Mr. Sony Sachdev the man behind this whole show has been taking care. He personally got the Tandoor concept alive into Mumbai & to top it further the Sea food was first given its way in Tandoor except for the normal way of cooking in Indian herbs and masalas or its Chinese way.

Sony Sachdev is the main person who has been in this place giving his day & night and he is the one who comes out with various New Dishes and leaving its tastes behind in people tongues to come again and again. He generally believes every individual has a different taste and every man goes back happy from his place provided he or she tells the captains or his order taker as to what sort of food is preferred. As for him the varieties created are tremendous but its narrowed down and then put in the menu.

The menu is presented in a simple manner, unpronounceable names and names just changed so as to differ from other restaurants.